We were 16 and 18 years old, Sonia living in Buenos Aires and Stefan in the German countryside. Two different continents and not yet connected to each other, but we already knew we were dancing to a different beat.
We wanted to feel the fresh air in our face, reach unexplored territories, meet unknown cultures and find our very personal purpose in life. We wanted to believe in our authenticity and our uniqueness. Let our wildness come out so we could face and transform our own world.
It was at that time that Sonia stepped into a yoga class for the first time, exploring meditation and breathing exercises. And exactly during this period Stefan started his own practice of Qui Gong and Yoga. One in Argentina and the other in Germany, but both understood that the world had not barriers but instead a big horizon, with countless possibilities. And there is when everything started: our big dream!
Make your dreams come true
Inspired in this free spirit, and after living in Italy, Switzerland and the USA where Sonia already practiced and worked as a certified yoga teacher, we made in Frankfurt our dream come true.
In January 2020 we created PURAJANA: your yoga-inspired and creative place for urban people of all ages who want to discover and keep their fresh and sparkly young spirit.
PURAJANA is a Sanskrit word that means "Urban Tribe". It reflects both our origins & the way we live. With PURAJANA we want to inspire and empower you to live a more integrated, healthier, creative and open-minded life in your very own way. 
PURAJANA offers a space to discover yourself, to try new things and just feel good. We believe that each of us can use our own creativity to make a positive difference in our lives and to inspire us to live a healthy and self-determined life.
We see our key role in supporting people to develop their very own strong personality. We want to help bring body, mind and soul into unity—for a life of courage, creativity, strength and fun—on the mat and beyond.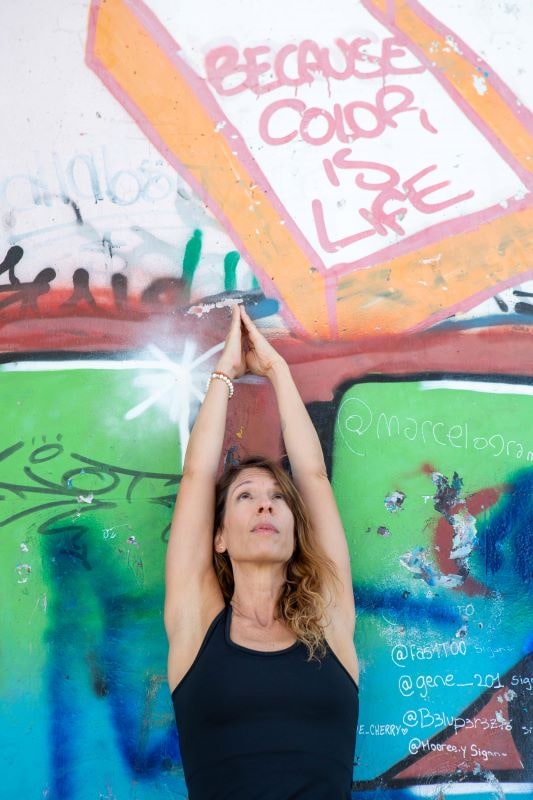 The combination of courses, workshops and many other offers makes PURAJANA unique: here you will find cool music in an inspiring atmosphere, people upside down or relaxing on the mat after the end of a Vinyasa yoga class.
PURAJANA is your place where you can feel welcome, meet people and have a great experience. Join the tribe, be part of PURAJANA!